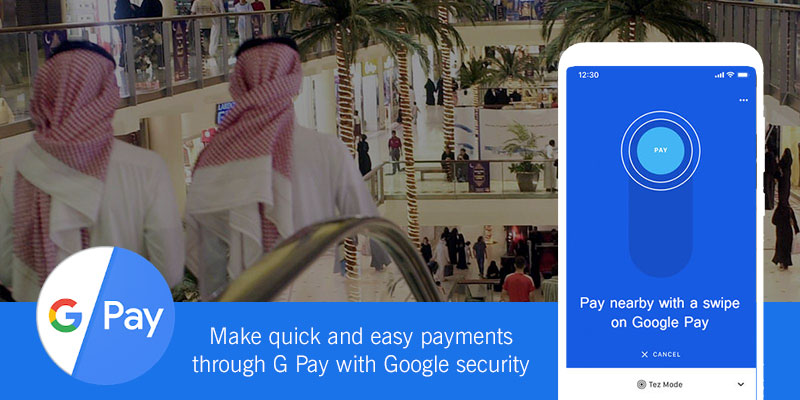 American tech giant Google has launched its Google Pay payment service in the UAE with the development of this app by the best app development companies. The Google pay app is available for iOS and Android 5.0 or higher to make their payment easier with Google security. This service is acting as a smartphone wallet to add Visa and MasterCard credit cards from partner banks. When transforming above AED 300 additional safety features are including that users need to enter their card pin code into the payment terminal.
Google pay makes the shopping experience easy by making payments through apps or websites and in all stores via Near Field Communication (NFC). This app is much safer than other payment systems because in this credit card number is neither stored on the mobile device nor in the system of the seller. In this transaction is made through virtual card number, i.e., token, this token number is always changing for each transaction because it is associated with the dynamic security codes.
In case if the phone is lost at any movement, no need to worry about deactivating the card because users can simply use the "Find my device" function to instantly lock their device from anywhere and change their password or erase their personal information.
To make a purchase in stores, users need to add their MasterCard or Visa cards to their app account from a leading banking group of UAE region. As contactless digital payment gets more popularity in UAE, there is a lot of support given by banks to make their customers' payment system new, easy and accessible ways.
Visa is more applicable for having the connective tissue to enable new digital payment and commerce experiences, for example, Google Pay. After launching Google Pay, Visa is bringing all mobile payment options for merchants and enabling them to accept payments from consumers regardless of what device the consumer uses at payment terminals.
Emirate Islamic, Emirates NBD, Mashreq and Standard Chartered are local partner banks that support to add their MasterCard or Visa cards to their Google Pay account. RAKBANK is on its way to join this service soon.
According to the latest report, the mobile wallet market is predicted to hit $2.3 billion by 2022 in the UAE along with the growth in the smartphone market and internet penetration in this region. And some study added information about the mobile wallet market will grow at the rate of 24 percent in compound annual growth during 2017-22.
But Google Pay need to compete for more to stand top of all mobile wallets in UAE because already famous mobile wallets are running in the market such as Samsung Pay, Beam Wallet, PayPal, Etisalat Wallet, and Apple Pay. And many local banks are providing their own mobile wallet services like Mashreq Neo and RAKBank Mobile Banking app.
FuGenX is a reputed mobile app development company Abu Dhabi provides services for Android app development, iPhone app development, and mobile game development.