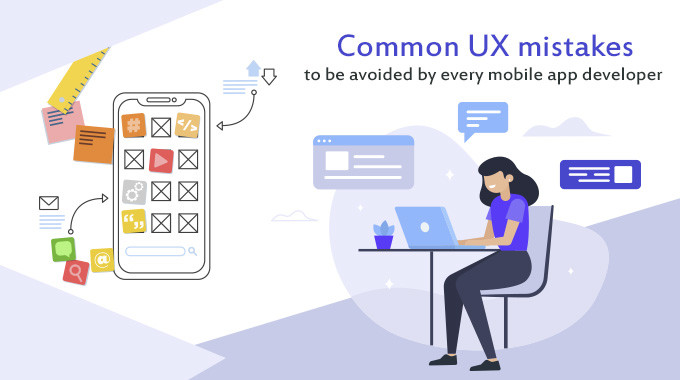 Have an idea of developing a mobile app? That's a great decision you have ever taken but you should take into accounts some steps for the best user interface of your mobile app. Yes, you have to make user attract with the unique brand user experience (UX) and that all makes you the user with the long lasting usage of the mobile app. Most of the companies are using this as a key driver for the user to make the app usage more. If you want your users to get an addict to your app, then you should go with something that other app makers are not done. Many people are expecting a smooth and unique user experience. If you don't prove at the first time, you won't get a second chance to prove in the 3.8 million apps. So, in this blog, we are going to discuss some mistakes that mobile app developers should avoid for the best UX.
Unreasoned architecture and complex interface:
In an app first, we have to look for the good user interface. No one wants a complex interface which looks like not to use the app. Mobile app development took place in the digital industry from the decade and ruling the digital world. People will automatically get irritated when they find the mobile app complex and confusing. So, you should figure out the sketches of mobile apps after the client requirements. Please focus on what user want from your app, if that look complex to find for the user, he is no longer use that app and replace the app with another available app.
Designing and Consistency:
Another common mistake we do is that using too many colors, fonts and background themes in an app. There is nothing wrong in designing an app with the common simple theme, the user won't feel uncomfortable and if you use too many colours and fonts in one app user may don't feel like user-friendly. The designer should remember that the graphics, colours, and schemes everything they make for an app has to impress users. They have to give a proper solution to the Lack of consistency.
Annoying notifications:
The first thing that a user get irritated with an app is that user getting annoying notifications. No user wants to read in-appropriate notifications or the same notification over and over again, that will give the user irritation and there is a chance of losing a user even though your app is doing well.
Inability to prioritize:
If you forget the giving importance to what is the main element in your app, there is no use of making that app. The designers should keep in mind that for what purpose they are designing and developing that theme. Visual hierarchy is the best concept to reach and to be loved by the user for that app. The designers and developers have to discuss what the main concept of the app is and they have to focus on that item to reach the user.
Conclusion:
A badly designed app which is not good at user experience can affect the popularity of your business at the beginning itself. So, guys keep in mind that what we are designing for and what is the main point to focus to reach the highest users. These are the main mistakes we should avoid in developing an app.
Looking to develop a mobile app for your business?
If yes, FuGenX will help you. Business can be boosted by top app development companies like, FuGenX, which is a global Android app development company in Dubai. It has helped many businesses in their growth. The best example of this statement is the Big Basket, which is now India's Leading online grocery store without any UX mistakes takes place.