Phonegap App Development
We shape up your idea into a Revolutionary App
Partner with the leading PhoneGap application development company Dubai UAE
PhoneGap is an open-source development framework from Adobe, one of the most prominent tools and mobile applications development companies in the world. With an incredible open-source community, PhoneGap makes up for an optimum tool for cross-platform mobile app development.
We at FuGenX technologies – the best PhoneGap application development company Dubai – use PhoneGap and a series of components that come along with it, like PhoneGap Build, dedicated plugin library, and community created tools. As a result, we are able to make on-time deliveries for products based on multiple mobile platforms like iOS, Android, Windows and others.
Incredible cross-platform apps, built with PhoneGap
The success of PhoneGap platform comes from its ability to apply one codebase to all the mobile platforms, thereby saving developers and entrepreneur, a chunk of their funds. All it takes for a developer to start with creating a mobile app is upload their HTML5, CSS and JavaScript codes to the Adobe PhoneGap Build, and the cloud-powered platform automates the compiling part. And with the community support for development and testing is what makes PhoneGap a fast and reliable tool for cross-platform app development.
FuGenX – Mobile App Development Company, is equipped with the right technology and a team of adroit professionals to shape up and augment your idea. We also provide PhoneGap development services in Abu Dhabi, Sharjah, Al Ain, and Ajman. Get in touch with our team of experts to:
Why PhoneGap?
Cross-platform framework compatible
Simple coding languages like HTML5, CSS, Javascript
Easy third party API integrations
Single codebase for uniformity across all platforms
Testing and porting over multiple application platforms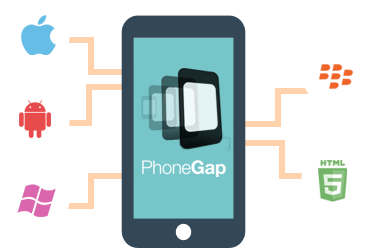 Our portfolio
We have a long list of happy and successful clients.
Al Ansari Exchange
Dubai, UAE
The new app has tons of great features, like sending money using QuickSend, multiple payment modes, instant transfer or normal, currency calculator, rate notification, branch locator, navigation, and more refined controls on sending money (to name a few…).
Al Ansari Exchange is one of the biggest exchange companies in the UAE that deals with the currency exchange and remittance service requirements.
Abar Hail Water
Kingdom of Saudi Arabia
Abar Hail helps the public of the Kingdom of Saudi Arabia order Abar bottled drinking water through their mobile.
The app allows to choose between various delivery locations, the date and time of delivery. Customers can pay through cash on delivery or online. The app represents Abar Hail Water company.
BYJU'S Classes
India & Rest of World
BYJU'S was founded by Byju Raveendran in 2008 and the company currently operates in eight prominent cities of India, including Delhi and Mumbai.
Classes Mentor App helps the parents understand the improvement and progress of their child on the go. It has been designed by a group of IIT & IIM Alumni.
Big Basket
India & Rest of World
Big Basket is India's largest online supermarket, headquartered in Bangalore. It sells over 14000 products of different categories, including fruits, vegetables, grocery and staples.
Big Basket operates in all the prominent cities of the country, including Mumbai, Delhi and Chennai. Big Basket was founded by five passionate entrepreneurs.
News and releases
Check out our news and releases. Perhaps you will find useful information for you.
Dubai
1003, Damac XL Tower, Business Bay – Dubai UAE
Sat- Sun 9:00-17:00 Friday Closed
Bangalore
#26, (6/A), 23rd Main Road, Marenahalli, JP Nagar
Mon - Fri 9:00-17:00 Sat & Sun Closed
CHANTILLY, VA
14175 Sullyfield Circle, Suite # 400 Chantilly, VA 20151, USA
Mon - Fri 9:00-17:00 Sat & Sun Closed